Kareem Hunt leaping over safety Will Parks on Sunday morning in Kansas City. Photo by: Charlie Riedel, The Washington Post
October 30, 2018 — You gotta give credit to the Denver Broncos, this season hasn't been fantastic for them but it hasn't been terrible either. The way they played Sunday morning vs Patrick Mahomes and his dominating offense was the best they've done all season.
Broncos were the first to score quick in the first, but they continued to trail the Chiefs until the end. Things were going well for the Broncos who were only down by two points in the third. Mahomes threw an easy short pass to Sammy Watkins, bringing the score to 23-14. No problem, next possession the Broncos have the ball on the Chiefs 15 yard-line and Case Keenum gets sacked by Chris Jones. Shoot.
Chiefs had the ball on fourth and one and Mahomes tossed a shovel pass off to Kareem Hunt (50 yards, 1 TD) who dodged a few tackles and jumped over Bronco's safety Will Parks to score a TD, making the score 30-16 (pictured above).
Now that it's week 8, the entire NFL is well aware of Mahomes' dynamite arm and lethal offense. But, the Broncos had a chance to come back as long as the defense kept their proper formations and forced either a fumble or a pick.
After Hunt's stellar TD, Keenum answered with a short pass to TE Jeff Heuerman for a touchdown, the score is 20-30 and Mahomes threw an interception straight into the hands of Justin Simmons (!!) Bronocos need to use this opportunity to score; instead they fumble on a strip sack and the Chiefs recover the ball.  Thankfully, Mahomes doesn't score on this possession, but Keenum attempts to complete a flea-flicker trick play, which resulted in him throwing an interception 🤦🏾‍♀️.
After multiple possessions by both teams, Broncos come back with a completed field goal kick and the game ends with a score of 30-23.
Lots of mistakes from both teams, Keenum and Mahomes were both sacked during their final possessions in the fourth, which could have led to some additional yardage and extra points. I don't feel I can criticize Keenum too much for his performance on Sunday. He created space for himself by moving out of the pocket and even gained some yards on a couple runs. The Chiefs are just too good!
---
Rams vs Packers
The LA Rams are the lone undefeated team in the league, who woulda thought. The Packers put up a fight, but unfortunately lost 29-27, due to a fumble during the last two minutes of the fourth.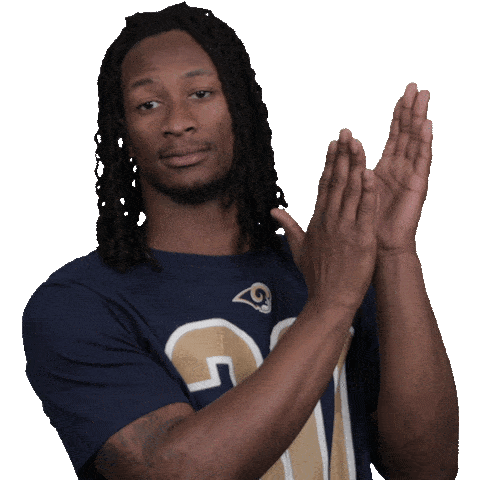 Game begins with the first Packers possession, QB Aaron Rodgers is sacked. Next possession, QB Jared Goff gets sacked. Both defenses were fired up and ready to go!
Packers were the first to score thanks to an easy 32-yard completed pass to Jimmy Graham, which put GB on the one yard line. Rodgers hands the ball to Jamaal Willams & scores. The next two Rams possessions Goff comes up with nothing and gets sacked again, with a score of 10-0.
Usually, Goff is tearing up the field and completing all his throws to his intended receivers. Instead, the Packers defense is shutting him down every time. Rams were forced to punt again before the half landing the Packers on the Rams one yard line. Weird play to complete, but Rodgers attempts a hand off, which results in a safety for the Rams. (A safety is when the offensive team is sacked in the opposing end zone).
Okay the score is 10-2, Rams ball with plenty of time to score another TD.  Goff completes a sweet juggled pass to running back Todd Gurley (114 yards),  landing them on the one yard line. Goff completes a sort pass to Josh Reynolds & boom just like that the fire is LIT for the Rams to come back and dominate in the second half.
Second half Goff and Gurley were vibin' hard, Gurley completed a TD followed by a two-point conversion to bring the score to 16-13. Next possession the Packers come up with nothing and what does Goff do? Score another TD with a short pass to Reynolds, score is 23-13. The offensive line is doing a much better job of holding back the Packers defense, giving Goff more time in the pocket, which is dangerous. Rodgers answers with a sweet deep pass to Davante Adams (133) on the Rams 32 yard line. Next play Rodgers hands the ball off to Aaron Jones (86 yards, 1 TD) who runs straight into the end zone thanks to a block by center Core Linsley. Packers are now down by six, 26-20.
Rams score a field goal and Rodgers completes another TD pas to Marquez Valdes-Scantling bringing the score to 27-26 Packers lead. Next thing you know both QB's get sacked, and the Rams complete a field goal bringing the score to 29-27. Rams kick off for a punt return to GB & ball comes out! LA regains possession and wins with a score of 29-27. Such a bummer, we know Rodgers would've came back and won the game with that much time on the clock.
"Q: So you guys's weren't worried when you were down ten?" Goff: "No, why would we be worried, it's a long game." – Press conference with Goff following the win. (Via http://www.therams.com)
During Goff's press conference he spoke with so much positivity and trust in his team. He mentioned how everyone is used to the Rams scoring high numbers in the first half, but they just had to keep calm (no pun intended) and play how they usually do, then things will come together. Rodgers on the other hand was a little salty in his press conference, he did commemorate his team for a few things but I liked how Goff presented himself. (Granted Rodgers did just lose by two so I get it).
Next week Rams will play Drew Brees and the Saints which will be fun to watch (!!) Rodgers will play my fave Tom Brady in Foxborough…good luck 🍀