Photo by Sean M. Haffey/Getty Images, via sbnation.com
November 21, 2018 — This offensively even matchup had the highest score for a Monday night football game in history. If you missed this game, you should figure out a way to watch it from start to finish; this game was filled with strip sacks, defensive touchdowns and LOADS of offense. The Rams came out victorious with a score of 54-51.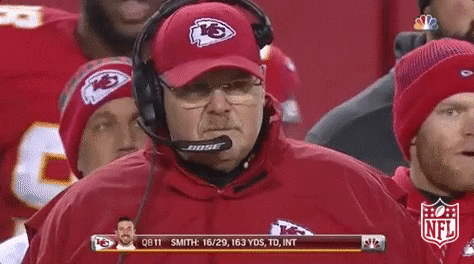 This game was one of the best I've seen in a while, especially for a primetime spot. The scoring was constant and the energy was high. Tons of offense and some crucially thrilling mistakes, like when both kickers missed an extra point, resulting in a tie by halftime.
Second quarter Chiefs were down 10-16 and on a Rams possession Goff is sacked by #98 Xavier Williams. 3rd & 13, Goff is sacked again and a fumble recovery leads Patrick Mahomes to throw a sweet short pass to Kareem Hunt, bringing the score to 17-16.
What happens next? Oh the Rams defense strip-sacked Mahomes and scores another seven, thanks to #50 Samson Ebukam. Mahomes drives down the field thanks to a sweet 37-yard pass to TE Travis Kelce and the Chiefs score on a short TD pass to WR Chris Conley. Thanks to that missed kick I mentioned earlier, the two teams end tied at half.
From that point on both teams dominated on passing but not much in their run game. (If you compare passing yards both quarterbacks had over 400+ yards). Heading into this matchup both teams' defenses were not the strongest when it comes to blocking an efficiently executed run play. "Entering last night, both defenses were a disaster against the run. Rams allowing 5.2 yards a carry and the Chiefs 5.1 yards a carry" (Geoff Schwartz, sbnation.com).
This game was one of the best we've seen in a while, unless you've remained current with the Saints then those games are equally as entertaining. The fast-paced no huddle offense kept the game feeling as if it was never going to end! If there was one negative critique both teams need to work on for the rest of the season it would be DEFENSE. As stated in Schwartz's article, defense is required to win a Super Bowl, you've got to stop some TDs at some point.
Regardless, this game was so much fun to watch and I'm sure the other 30 teams were just as hyped up as fans were with each completed play.
Both teams have a nice holiday break before they come back and "play" against the Raiders and the Lions. I put play in quotes because truly the Raiders don't really stand a chance against the Chiefs offense, but the Lions could (probably not) put up a little fight against the Rams.