RB Rodd Smith in the end zone, week 17 vs the NY Giants. Photographer: Jeremiah Jhass via http://www.dallascowboys.com
January 4, 2019 — Happy New Year everyone! I know I've been MIA since the holidays (which is a wack excuse I get it,) and missed recapping on some great games.
Christmas day we all watched the Lakers beat the Warriors throughout the entire game. Offense was lazy, defense was minimal, and Lebron James left early in the 3rd quarter -__- Following that poor performance, the Blazers demolished the Warriors for the same reasons. Granted we only lost by one point in OT, but KD (26 points, 10 rebounds, 11 assists) had to work hard in the fourth to get the score even by the end of regulation. Steph Curry (29 points, 5 rebounds, 7 assists) missed back-to-back three's and gave KD the ball along the arch to tie the game.
But thankfully, when they headed to Portland, the team reconvened and got their game together to win, 125-97. (I think this meme is from that game 🙂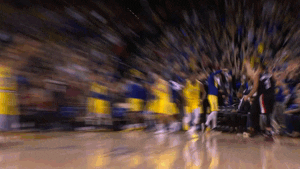 As for football, I'm glad all the lowest and highest ranked division teams are out of the way. I swear, last weeks games were just fillers and a waste of time. I'm ready for the Wild Card match ups this week! My predictions: Houston, Dallas, Charger, Bears (even though I want Eagles to win, Mitchell Trubisky is just one of those clutch QBs).